Since releasing Glimpses of Fiji – my drawing series from the happiest place on Earth – I returned to Estonia and have realised what a truly extraordinary place Fiji is. Sometimes I have to whip out my phone and look at those smiling faces in my drawings just to recover from taking the bus or talking to a customer service person here in this 'cool climate'!
According to all of my creative role models the #1 most importan thing to do as an artist is SHOW YOUR WORK. My obsesive one eyed perfectionism regarding presentation, considering I am pretty well an unknown artist, has apparently priced me out of my number one goal: sharing my work with people.
Producing my drawings as huge pieces face-mounted on acrylic is truly the most optimal format for enjoying the bright colors & intricate details. Looking at the artwork presented on little screen-size pictures simply does not reveal it's WOW factor.
Seeing the drawings in person – the clean, glossy acrylic glass finish and the imposing dimensions – leaves an impression. Anyone who has come to visit our home in Sydney and seen these awsome huge prints first hand can attest to that.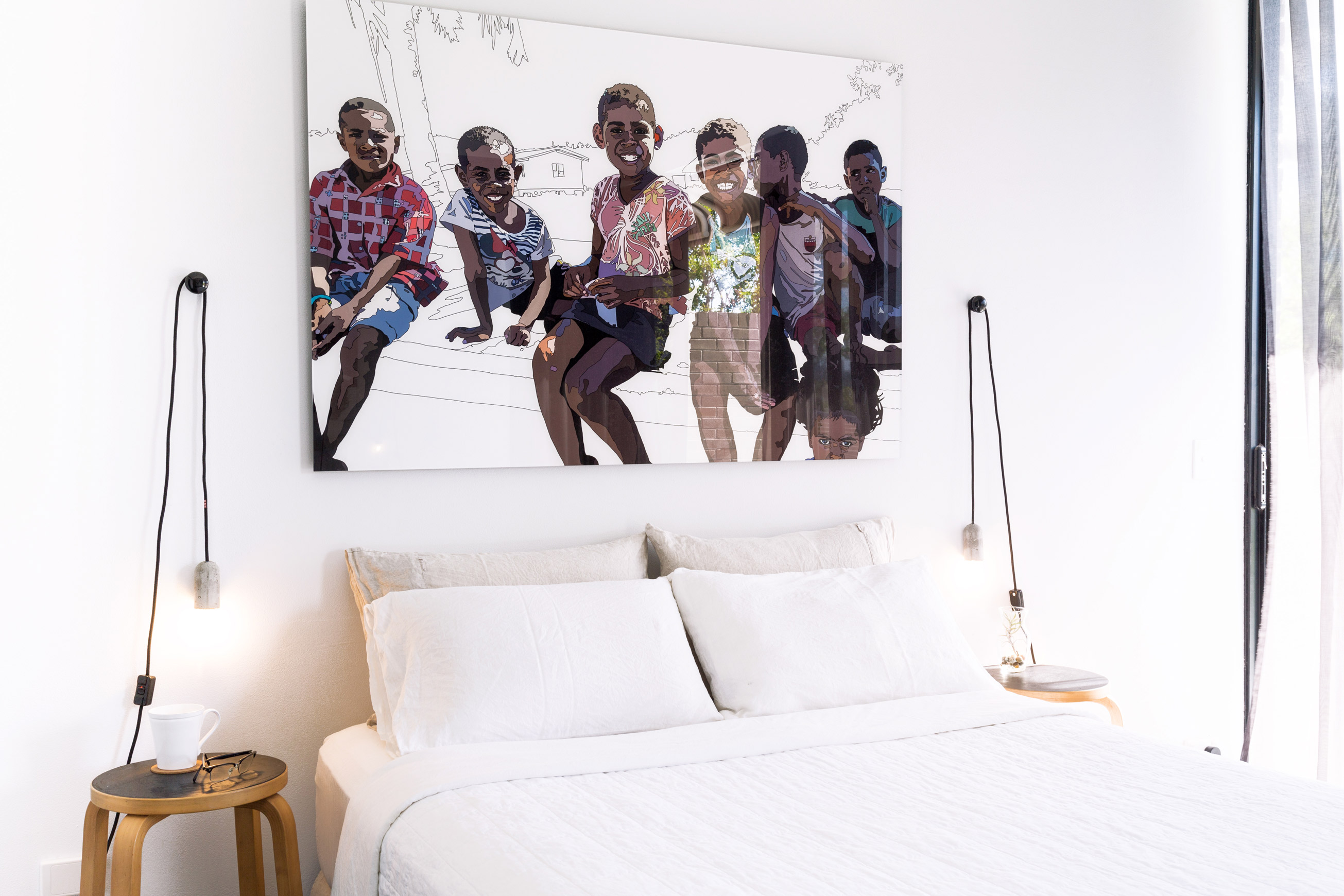 These glossy acrylic prints, laminated between several layers by specialized fabricators make the artwork virtually indestructible, but come with big production costs. To mount a decent exhibition of 20 artworks I would need to fork out very big money on production alone and frankly I don't have the guts to make that kind of investment. (And I'm running out of wall space at home.)
From my very extensive research online and after combing through galleries of Paris, New York  and Savusavu (kidding) I have also found that "digital art" is a hard sell with galleries who often seem to be looking for ridges of oil paint rising out of canvas or whose definition of drawing is strictly 'chalk on paper'. Finding places that are open to digitally created artwork is like finding vegan food in France.
So I've decided to try another tack, the more affordable conventional route, and offer my drawings printed on fine art paper. They still look stunning and at the same time are a lot lot cheaper to produce.
So here's the deal. As this format does not come with ticket shock (and luckily I haven't quit my day job yet) it makes it a lot easier for me to get my cool artworks to your walls.
You pick a drawing (or two, or ten!)
I will print it for you on 30 x 45 cm (12'' x 18'') paper, with some room for matting and framing.
I will ship it to you in a sturdy flat pack, accompanied by a certificate of authenticity.
All this for $79 AUD (55€ or $60 USD), shipping included.
Each piece is printed on Hahnemühle archival quality fine art paper as a numbered & signed edition. The paper is of the highest quality available on the market, with a matte watercolor texture.
Payments accepted via Visa, Mastercard, Amex, Paypal. Also cash & bank transfer if you are located in Estonia or Australia.
This is a limited time price offer until 1st of September because I can only produce it at this price point while still in Estonia!! 
And if you want a big one in this format, no problem, just ask me.
To get started find your favorite drawing (you can see all of them in the Lookbook) and send me an email: [email protected]
PS: I will be doing a birthday giveaway on Instagram this week so keep your eyes peeled and  you might win a print!