I'm back in Fiji and fully immersed in the salty dog life. This means little daily tasks on the boat, going bush walking whenever land is in reach, worrying about dwindling food supplies, trying to connect to the internet and generally doing a lot more reading and a lot less working. Oh well.
The one funny thing about living on a boat is that you suddenly have a lot more time to think. So I've been thinking about travel lately. What it means and how it has changed my life. I have come to realize that travel (or even just the dream of a new destination) has always been the vital driving force to get me out of a slump or a vicious circle of loneliness and self loathing… So I have concluded that a change of scenery is always a healthy thing. Be it an overnight trip out of town or a voyage to the other side of the globe on a one-way ticket.
 I believe that life is an endless course in self improvement and that stepping out of our comfort zone is the best teacher we can wish for. Click to Tweet 
My first trip out of Estonia without parental supervision was a class excursion to a place called Taizé in France. Being so far from home, with no clue of what I was getting myself into, and meeting different people from around the world – introduced me for the first time to the concept of travel. Ever since then I have been "afflicted" with the Serial Traveler Syndrome. And it only grows stronger with time and experience.
I love non-fiction books about adventures – my favorite thing on the boat is to read harrowing shipwreck survival stories (creepy, I know). I get inspired by movies like Lost in Translation or The Secret Life of Walter Mitty. When other travelers post pictures of amazing destinations on Instagram I can't help but feel a tinge of regret for not being there myself. I just keep wishing that someone invented teleportation already!  Hence the quote I recently posted: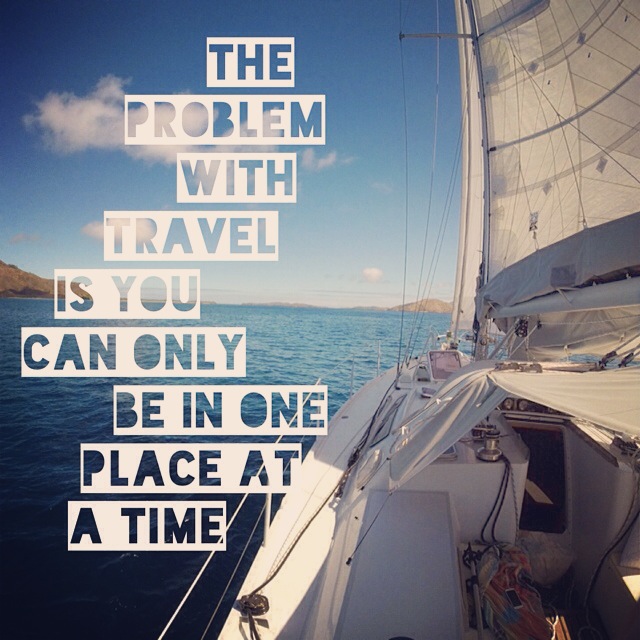 You don't have to go far or spend lots of money to feel the benefits of travel. A change in mindset can be all that's needed. Which is why I encourage you and all my followers to keep an open mind and be inquisitive about the details of daily life. Share your discoveries on Instagram using the hashtag #ThinkLikeATraveler.
There is a study showing that If you can't take the time for a getaway right now then just plan one anyway. The highest spike in happiness occurs during the planning stage of a vacation. So put something on the calendar – even if it's a month or a year down the road – and make a packing list. Then whenever you need a boost of happiness, remind yourself about it.
I believe that looking at images has a similar effect to reading about travel or making plans about it. Why else would the internet be full of image galleries with titles such as: 29 photos that will inspire you to travel.
And ultimately that is exactly what I am trying to achieve with my artwork! To infect you with wanderlust and perhaps plant the seed of a future adventure!
So here is a little drawing-in-progress of a cute village girl I met in Yasawa Island. That place has the whitest pristine beaches I have seen anywhere in Fiji, it is definitely among my top 5 favorite spots around here!
PS: This drawing is now available for collectors in several sizes, starting from $390. Click here for more information.
---
Related articles:
Why travel & art is the answer to everything
Video: The Long Journey to Fiji
The Top 7 Reasons Why You Should Totally Come to Tallinn