In my previous post I promised to share the next phase of this drawing if someone guessed where the scene is from. Thankfully one person did comment (woop!) and thus I have an excuse for posting this. Ah, the life of grassroots blogging! (I guess blogging is a bit like tweeting: you send a message out into the Universe and hope that someone will intercept and maybe even respond. Of course if you're Katy Perry you wouldn't have a clue of what I'm talking about… but hi Katy, love your work and thanks for reading my blog!).
I'm afraid the three months without sunlight finally got to me so I've been feeling rather under the weather, not being able to do much more than take naps and watch all the episodes of Shark Tank. But I am slowly getting rid of the flu and back into work mode.
I am not yet sure what the finished version of this will look like but I thought it would be interesting to share an intermediate phase that will almost certainly be discarded never to be seen again. These two Japanese ladies were photographed at Yokohama Chinatown. It was a hot sunny day and I stopped at a shaded gazebo for a rest. It must have been the usual hangout spot for the local oldies. They were chatting, the ladies fanning themselves, someone taking a nap on the edge of his seat… I am sure they come to sit together in that gazebo every day, watching the passers-by, perhaps exchanging the latest gossip and discussing last night's TV shows, or maybe debating about current affairs.
Lightroom allows to see where exactly each snapshot was taken, so here is the location of that gazebo shown on the map. If you happen to be visiting Chinatown in Yokohama make sure you stop by and I am almost certain you will see them sitting there; chatting and taking naps.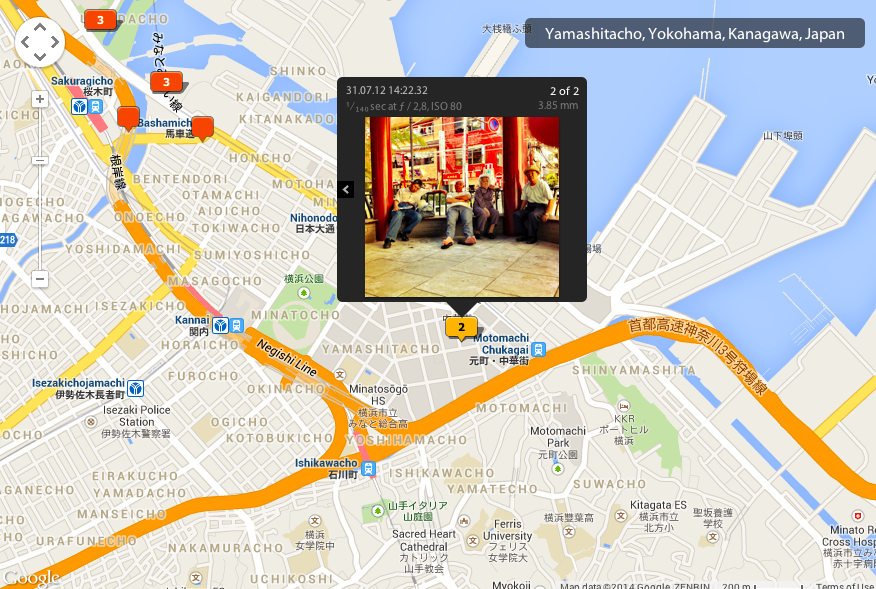 Related posts:
Video: How a photo becomes a drawing